1)AC Motors → Three Phase (SC & SR) → Low Voltage - High Efficiency Motor
Totally Enclosed Fan Cooled Squirrel Cage Motors (TEFC)
LOW VOLTAGE CAGE INDUCTION MOTORS
Standard Challenger Series
Totally enclosed fan cooled sq. cage.
Alpower - Aluminum Body squirrel cage motors upto IEC frame 180L.
Challenger series squirrel cage motors - Integral feet rugged cast iron construction.
Rationalized product features.
EFF 1 in line with IS : 12615 / CMEP.
600% max. stg. current.
RTD / BTD ( frame 280 onward ).
Low noise level.
60hz. supply.
CE / CSA marking.
Class 'H' Insulation.
55 deg. ambient.
APPROVED BY MAJOR CONSULTANTS LIKE NTPC / BHEL / EIL..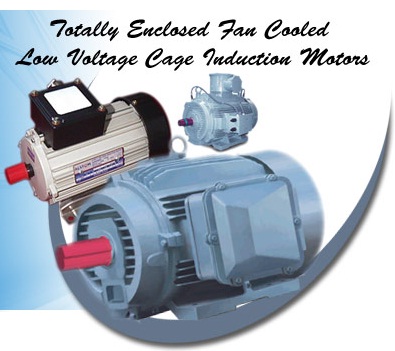 High Efficiency - IE 2
New IS : 12615 : 2011 is based on the international standards IEC 60034-30 (2008).
Has rated voltage <= 1000 V.
Has a rated output 0.37 KW <= 375 KW.
Are rated on the basis of either duty type S1 (continous duty) or S3 (intermittent periodic duty) with rated cyclic duration factor of 80% or higher.
Designed for an ambient temperature not exceeding 40 deg C.
Having protection IP55 and superior.
High Efficiency - IE 3
IE = PREMIUM EFFICIENCY = IE3
(Offer and Performance Figures on Request)
PAYBACK PERIOD - Click here for Payback Period