1)AC Motors → Three Phase (SC & SR) → Medium / High Voltage - High Efficiency Motor
SCREEN PROTECTED DRIP PROOF (SPDP)
LOW VOLTAGE SLIPRING INDUCTION MOTOR
Standard Series
IP23 (Screen Protected Drip Proof), IC01.
Motors are basically rated for S1 (continuous duty) but can be adapted to other duties such as S6, S7, S8 etc.
Class 'F' insulation (temperature rise limited to class 'B').
3 phase, 415 volt ± 10%, 50 cycle ± 5% as standard.
Continuously rated.
Tropicalisation treatment is provided as a standard practice.
Horizontal footmounted - B3 mounting as standard.
Vertical flange mounting - V1 construction available for frame sizes RW105, RW120, RW136, RW152 and RW168.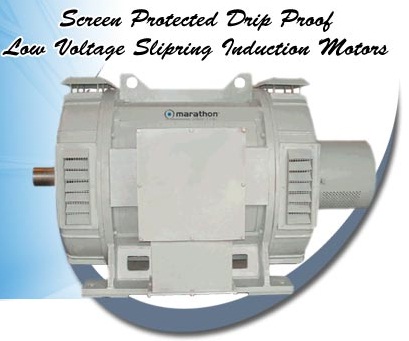 RW Series - A Symbol of Versatility
Better for heavy duty use with driven machine imposing overloads and severe mechanical shocks and vibrations.
Suitable for smooth constant loads since the motors are also designed with high efficiency and power factor.
Motors are 10 - 15% lighter in weight and yet more rugged because of their inherent special construction.
Because of high Pull Out Torque and inherent thermal margin kept for high slip operation these motors are ideally suited for rerolling mills and Cane Cutter / Cane Crusher / Care Leveller / Cane Fiborizer applications pertaining to sugar industries.
Motors are also suitable for pump / fan applications.